Help the Hungry: As we write our cards and light up our homes, we need more than ever to consider those who have lost so much in this crisis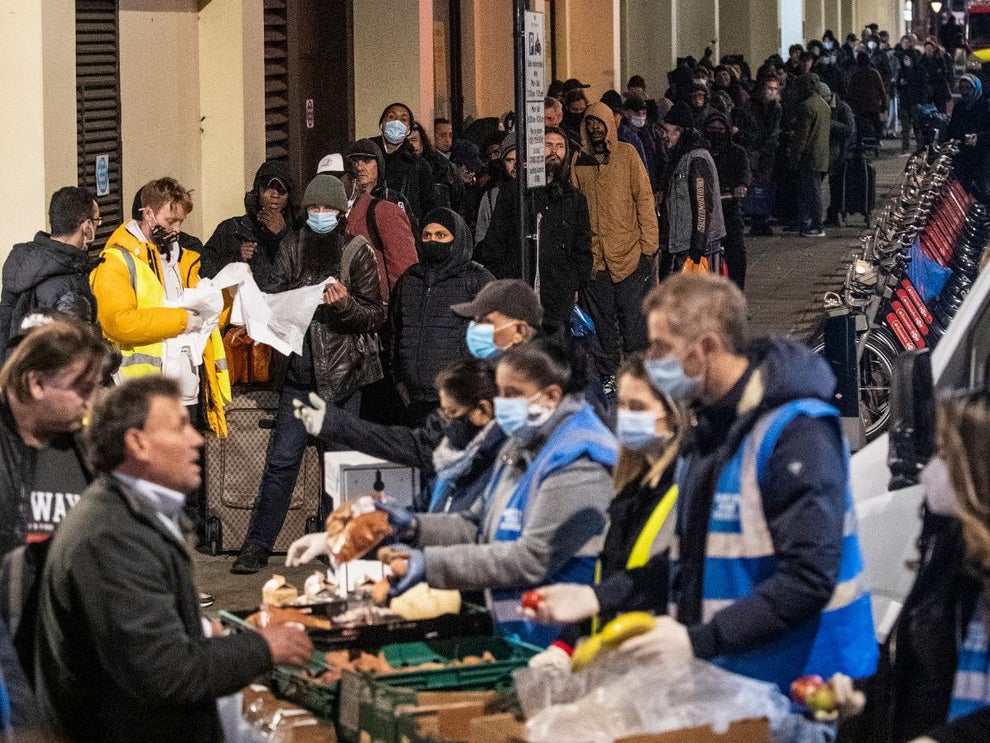 Dear Reader,
This Christmas is like no other in our lifetimes. Eight months of battling the virus has devastated our economy, divided families and led to tragic loss of life.
The accompanying image shows that even in the centre of London – one of the richest cities in the world – in 2020, more than 300 desperate people have to huddle in the rain and the cold to get a hot meal.
This year, when we write our cards and light up our homes, we need more than ever to consider those who have lost so much in this crisis.
I am thinking of the newly unemployed who have found themselves without the means to support themselves. Our homeless population, with services to help them being more stretched than ever. And children who have lost months of their childhood and, in some cases, the meals on which they depend.
But there is also cause for hope. I am inspired by the volunteers, organisers and donors who came together to make our Help The Hungry campaign the most successful in our history. And a vaccine is on the way, which promises a return to normal life.
So this Christmas I am asking you, readers, to back us in our push to combat food poverty across the United Kingdom. We will continue to support the work of The Felix Project; we need your help to fulfil our ambitious plan of providing 100 million meals annually to end hunger by 2024.
And to combat the daunting increase in poverty in our capital, we will also be preparing and delivering hot meals ourselves to charities and individuals until Christmas, from our state-of-the-art food trucks.
None of us can imagine that what we see on the streets, or read in the news, has no bearing on our own lives. The virus has shown the extent to which we are all connected now. Better days will come, but for now we need to brace for a tough winter.
We should not expect that the government has all the answers. We need to help each other, as we always have. Let's make the solution to this growing hunger crisis a community one.
The Independent won't forget the hungry and the vulnerable. We know that you won't either. 
Evgeny Lebedev is a shareholder of The Independent and Evening Standard
This November and December we will be delivering food directly to 1,000 people a day through our partner With Compassion. Please donate here to help us do all we can to ensure no one goes hungry this Christmas.