Julian Assange has been in Belmarsh prison since 2019 facing extradition charges to the US. Here, his fiancée and mother of his two youngest children tells Katie Strick about their extraordinary love story and why his case has drastic implications for press freedom.
Stella Moris - fiancée of the incarcerated WikiLeaks founder Julian Assange and mother of his two youngest children - takes a deep sigh and holds her head up in her hands. The South African-born lawyer turned freedom-of-information campaigner has had a whirlwind 24 hours, even by her standards.
Since returning to London on an overnight train, she has reunited with hers and Assange's sons, Gabriel, four, and Max, two; made a speech to journalists on press freedom; and squeezed in a fleeting visit to HMP Belmarsh, the maximum security prison in south-east London where her husband-to-be has been locked up since 2019 while he awaits the outcome of a US extradition appeal at the High Court (the news that he has lost that appeal and can hence be extradited comes through this week, a month after our meeting, with Assange's supporters calling the decision a "grave threat to press freedom").
When Moris and I meet, it is still weeks before the result of the appeal but even now her anxiety is visible to see. We meet at the Frontline Club, a private members' club for journalists in Paddington, and she is wearing a grey beanie hat and navy polo neck and speaks quietly, nervously scratching her hands around the diamond engagement ring she bought for herself on Assange's behalf while he was in the Ecuadorian embassy in 2016.
Today, Moris, 38, says she intends to appeal the decision "at the earliest possible moment". "For how long can this go on?" she asks outside court, citing her fiancee's real and "oppressive" risk of suicide inside prison, even before a possible extradition (US authorities have offered assurances that Assange would not face the strictest measures, in order to reduce the risk of suicide).
Moris does not know this latest bombshell on the day we meet - instead she is still busy fighting a second battle. After our meeting, she is rushing straight off to meet her lawyer about their legal action against the deputy prime minister Dominic Raab and the Belmarsh prison governor, who she claims were blocking her and Assange from getting married inside the prison. Just hours later, the news she has been battling for comes through: after five years of trying, she and the Australian-born whistleblower have been granted permission to marry. Moris is relieved that "reason has prevailed" in her marriage battle, calling the delays a "completely outrageous and illegal interference in [their] private lives".
But before this month's extradition bombshell, it is hardly happily ever after. Marrying in a small Catholic ceremony in Belmarsh is hardly the wedding she dreamed of and she fears for her fiancée's life while he remains in jail. "I've never seen him this thin...," she says, anxiously. According to Moris, her fiancée is "desperate" and deeply unwell after months trapped behind bars with some of the country's most dangerous offenders. At a point in late 2019, prison authorities believed him to be at risk of suicide and he was put in a mental health ward, sharing a room with a serial killer.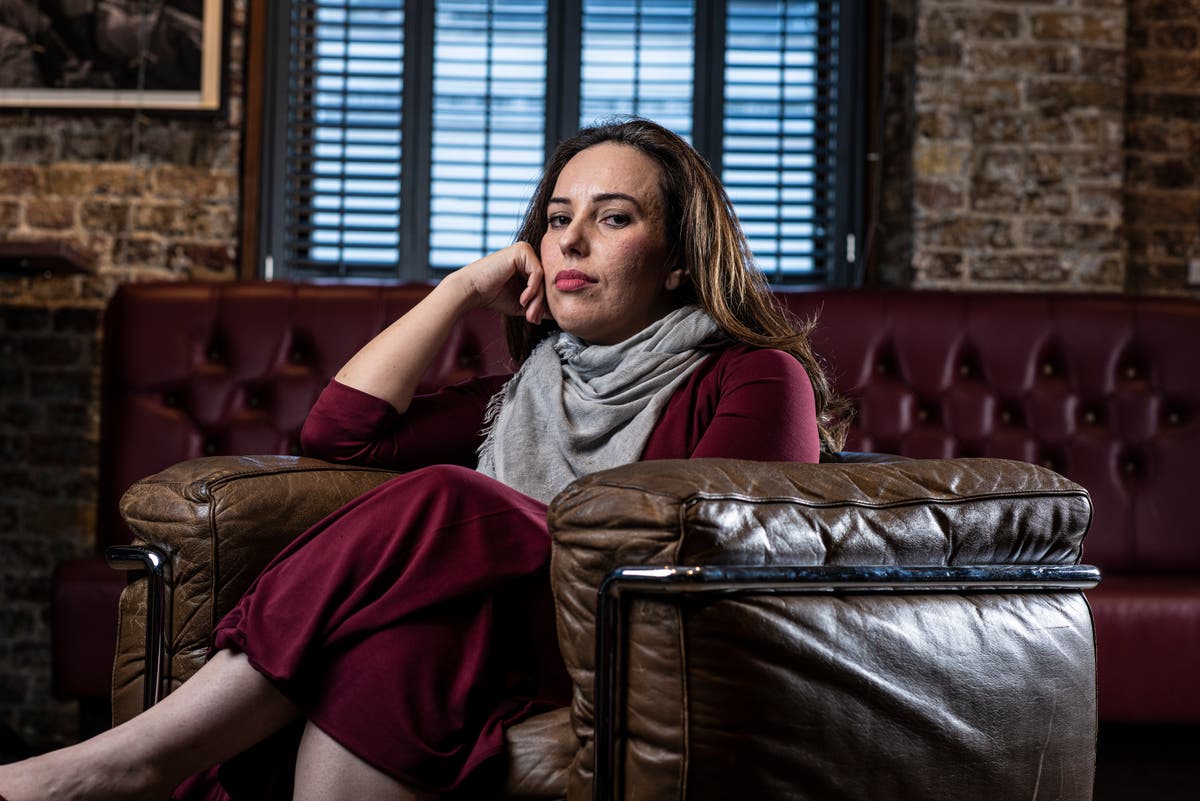 "[That Julian should spend] a single day in prison is... incomprehensible," says Moris, reaching desperately for her handbag whenever her phone rings in case it's a call from Assange (he has to initiate calls and they cut off after 10 minutes). She visits once a week and they can hug as long as she takes an antigen test - a "happy moment", after being barred from visits over lockdown. She tries not to make it a heavy experience for the boys but the place is "cold and oppressive" and even the children have to keep their masks on and go through five layers of extreme security on each side (Max, the youngest, has only met his father since he's been in Belmarsh).
Even by spy movie standards, his and Moris' extraordinary love story sounds fantastical: an entire relationship forged inside a single diplomatic building, secret from the rest of the world and under the watchful eye of the CIA. The pair met in 2011 while Moris was working in Assange's legal team during his seven years seeking refuge inside the Ecuadorian embassy. Assange, 50, was claiming diplomatic asylum at the time after exposing thousands of documents relating to the Afghanistan and Iraq wars in 2010 (including footage of US soldiers shooting and killing civilians from a helicopter in Iraq). The US said Wikileaks had put its intelligence and military lives at risk, while Assange and his supporters argued that the public had a right to know and that the US was shooting the messenger. At the same time, Assange was also being threatened with extradition to Sweden, having been accused by two women of forcing them to have unprotected sex (he has always denied the accusations and has never been charged).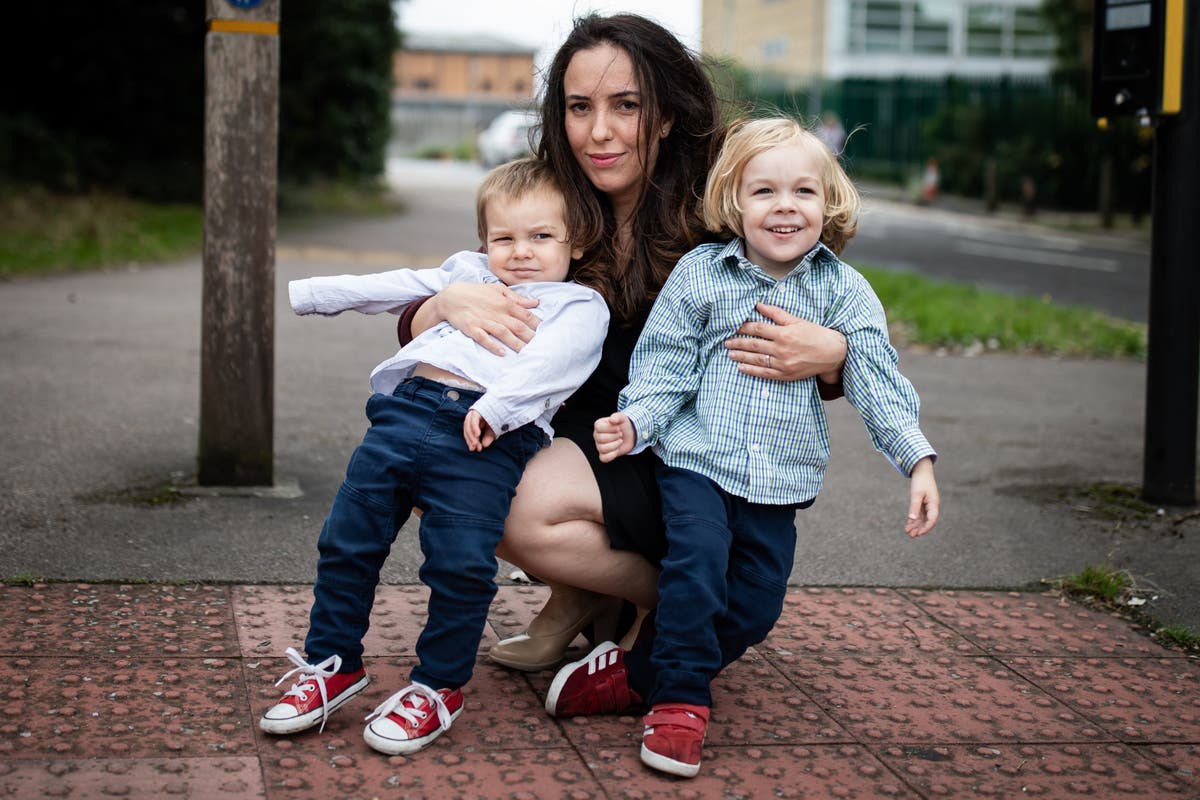 I ask what made Moris fall in love with Assange and she lights up, speaking faster with a kind of school-girlish blush. "I could never get bored of him," she says. "I find him physically attractive, he's incredibly intelligent and engaging, he's curious, he's caring, his way of thinking is really interesting" (she has previously compared Assange to "a 21st-century Renaissance man" who crosses the scientific and humanities boundaries"). Moris pauses, then adds: "He's also funny - that's not something many people know about him. But he has a very playful sense of humour."
After they met, Moris - a multilingual SOAS- and Oxford-graduate whose name was Sara Gonzalez Devant until she started working with Assange - became one of Assange's eclectic (largely female) stream of visitors inside the embassy, including pop star Lady Gaga, fashion designer Vivienne Westwood and former Baywatch actress Pamela Anderson. Moris visited him almost every day and they started a secret love affair in 2015. Their relationship milestones read like fiction: she told him she was pregnant via a written note in case the room was bugged, he proposed via a virtual reality headset, and he watched both births via livestream before a private security firm seized the tape.
Moris is a little uncomfortable when I ask how she managed to get pregnant inside the embassy, choosing her words carefully. "We weren't... affectionate in front of other people," she says, insisting they talked about starting a family like any normal couple (Assange is believed to have other children, including a son from his previous marriage to ex-wife Teresa Assange). "I was 32 or 33 at the time," Moris adds. "These things were on my mind."
The pair kept their romance hidden for five years (Moris' friend Stephen Hu, an actor, posed as the father during visits), but news of their secret family broke last April after the WikiLeaks founder had attempted to secure bail at Moris' home due to what his lawyer called "a very grave risk of Covid" inside prison. After years spent hiding her children's father's identity from everyone except her immediate family and close friends, Moris suddenly found her face splashed across front pages all over the world. She went public over her fears his "life [was] on the brink" and she did not believe he would "survive infection with coronavirus".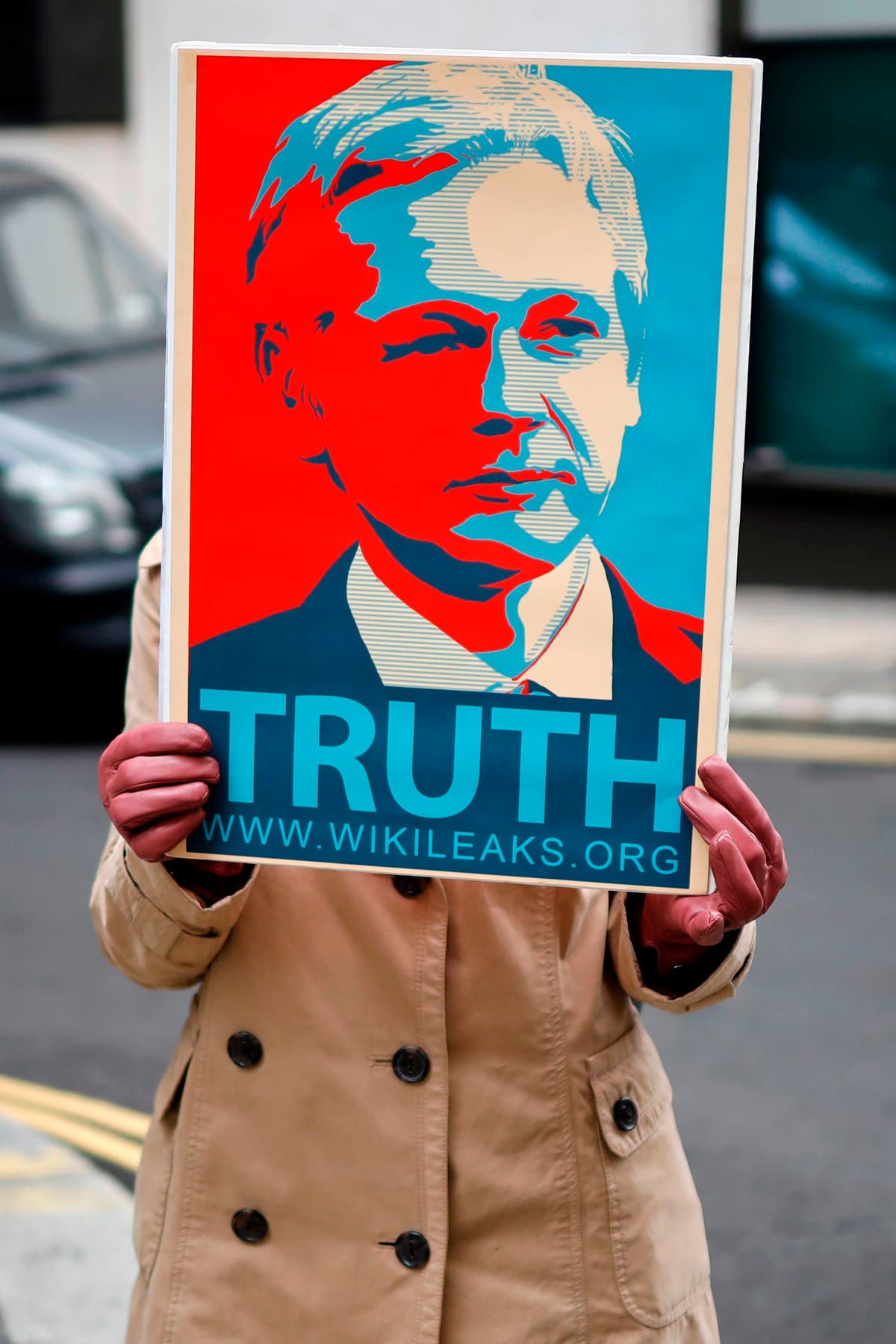 For Moris, having her story out in the open was terrifying, but also a relief after years spent in a "permanent state of anxiety and fear" (both boys are the spitting image of their father, which she knew would raise suspicion). She always knew her links to Assange would put her in danger but those dangers were confirmed in September, the most shocking being the report that in 2017 the CIA, under Mike Pompeo, had discussed plans to assassinate, kidnap and rendition Assange from the embassy. "It just sounds like this crazy film," she tells me, explaining why she thought her story too far-fetched for friends to believe.
Moris is naturally reserved, speaking with an American accent with long, painfully drawn-out pauses between words. Public speaking does not come naturally to her, but in the last 20 months she has had to do an awful lot of it. "I'm not saying [you have to] like him, I'm saying shut up about it and defend him because he's being persecuted," she told journalists at the Frontline Club in Paddington earlier this month.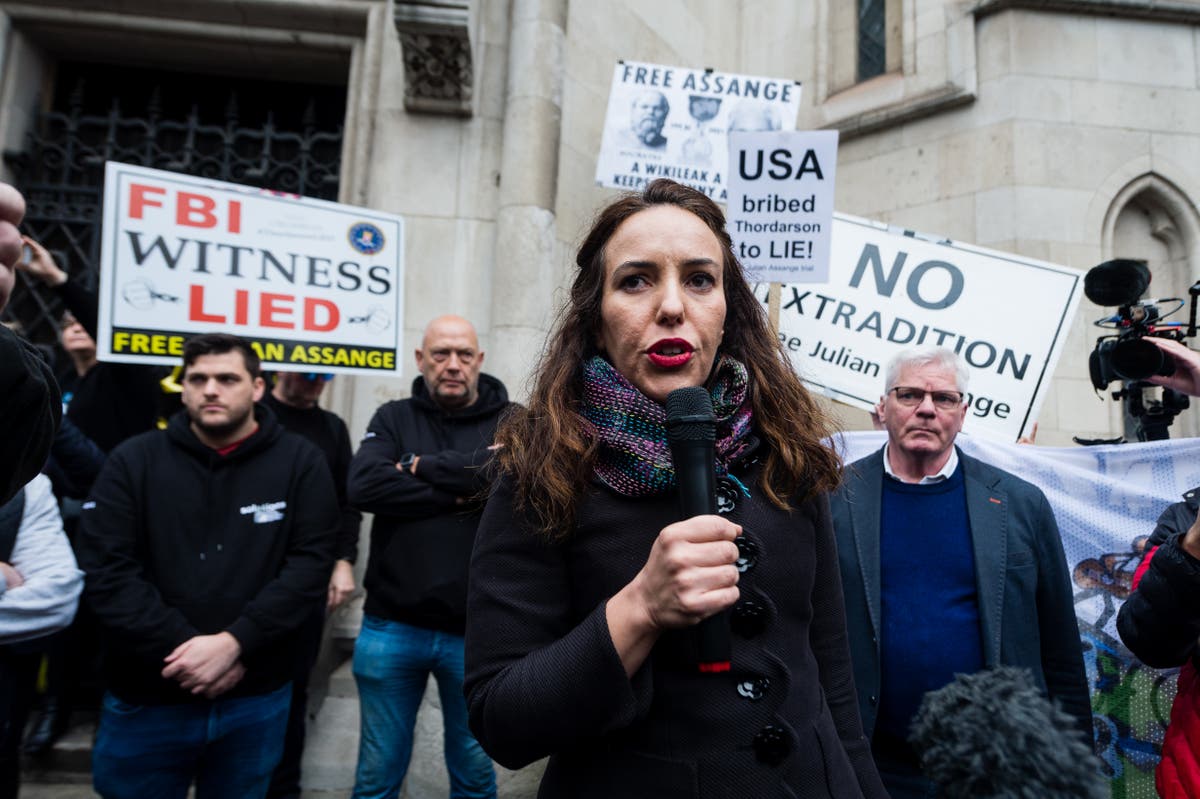 As she told the crowd, Moris knows her fiancée is a divisive character - not just around the debate on whether he should have leaked classified information, but on a personal level. Stories of his rude, narcissistic, paranoid manner are common among those who have met Assange and the allegations of rape and sexual assault, made in 2010, persist. But Moris believes too many people have become distracted by whether they "like" Assange and overlook the wider implications of the case. Not only is her fiancée's treatment unfair on a human rights level, but dangerous "because it sets a precedent in relation to press freedoms" and implies journalists could be extradited for writing stories, she says. "It's completely an insane proposition that has huge implications for press freedom and will just encourage others".
Moris also believes Assange's case is "humiliating" for the UK and diminishes the country's global standing. "If Julian dies in a UK prison, I think it's catastrophic for the UK's credibility because the UK would be primarily responsible because they hold the key to his cell. They can stop this anytime. The problem is the perception that this is a judicial matter, when this is actually a political case."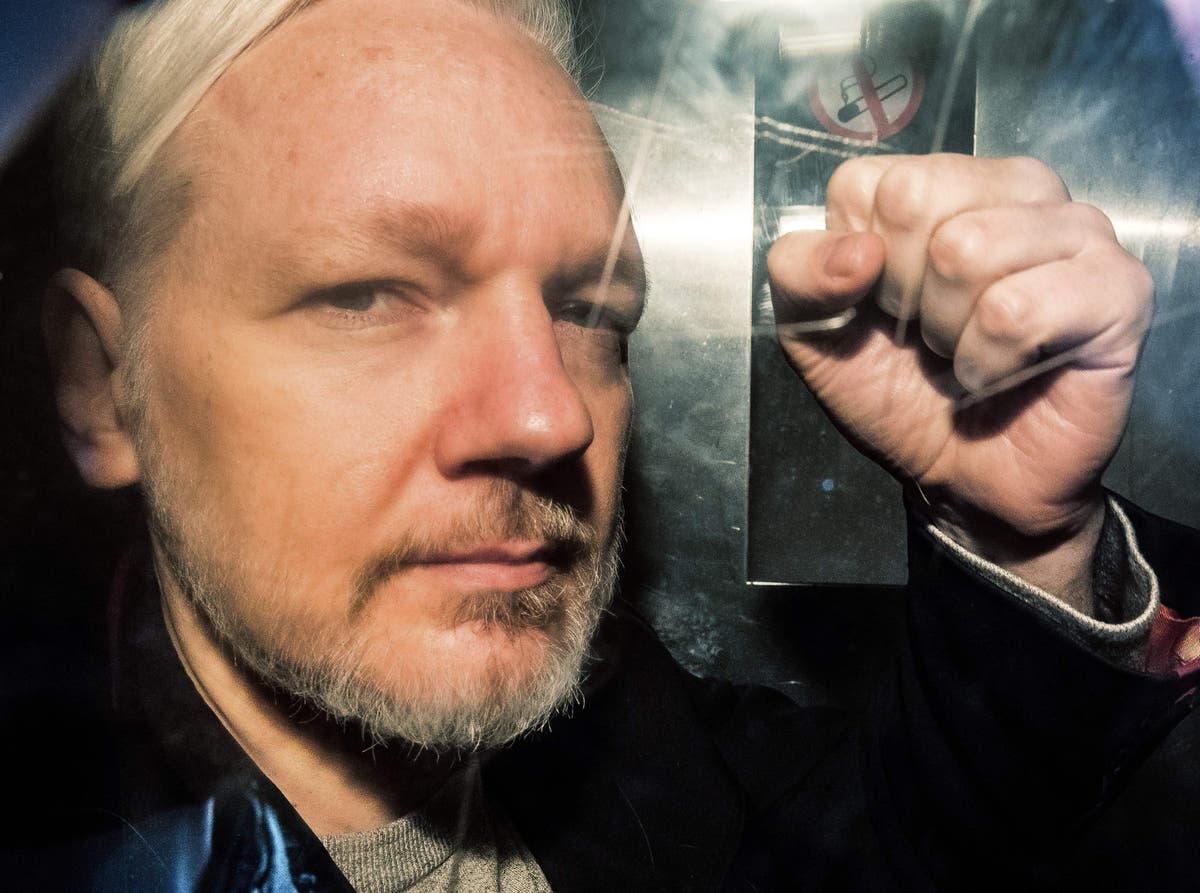 The reality of his imprisonment is becoming harder and harder to keep from her sons as they grow up. "It really makes it difficult to teach your kids about fairness when their father is being treated so unfairly. Someone asked me: 'Don't you want to tell your children that there are lots of innocent people in prison who shouldn't be there?' I do want to tell them that, but Julian's situation is completely different… it's a political persecution. It's just a whole different category altogether."
What does she say to the boys? "I tell them about people who support Julian," she says, recalling the 50th birthday celebration she took them to on the lawn outside parliament in July, with a cake, singing and a string quartet. "They perceive that there are these sinister forces that are treating their father unfairly, but there is also a lot of support."
At home, she tries to keep the boys' upbringing as joyful and normal as she can. A recent picture on her Instagram - where she has more than 3,800 followers - shows them dressed as a skeleton and a pirate for Halloween, and her mother and brother both help with childcare.
Assange is as hands on as he can be, discussing potty-training techniques over the phone, but "the older [their sons] grow the more difficult it will be to try to make this situation feel normal for them," says Moris. "Julian is a wonderful father and I just want him to be able to be the wonderful father I know he is for his kids - to be a normal family."
For Moris, marriage - even if it has to take place behind bars - will be the first step towards this. But clearly the uncertainty of her husband-to-be's release is becoming increasingly heavy burden. "He could be free tomorrow or he could be extradited or he could be in Belmarsh prison in three years' time."
The result of his appeal might now be known but Moris' intention to appeal is proof that she still holds out hope that America will drop its case against him. The hope sustains her. "I'll keep fighting until he is free. He could be home for Christmas... I have to hold onto that."