First UK national paper to go digital-only closely watched by rivals
The Independent has become profitable for the first time in 20 years, according to its owner Evgeny Lebedev, six months after it became the first UK national newspaper to shut down its printing presses and exist solely online.
As other newspapers in the UK and around the world try to build digital businesses and survive the long-term decline of their print readership, the progress of the Independent is being closely watched.
The company says its digital switch has been vindicated by significant growth online — from 15.8m unique users in February to 21m in June ahead of the UK's referendum on EU membership, before falling back to 16.2m in August, according to ComScore, the research firm.
By comparison, ComScore said Mail Online was the biggest newspaper website in the UK with 26.4m unique users in August, while the Guardian had 24m.
Separate figures from the Audit Bureau of Circulation show the Independent had 74.3m unique browsers in August 2016 — a 41 per cent year-on-year increase. Its Facebook page has 5m likes — 1.3m more than the Telegraph.
The company says its digital advertising revenues have grown by 45 per cent year on year and that it is likely to record about £20m of revenues in 2016.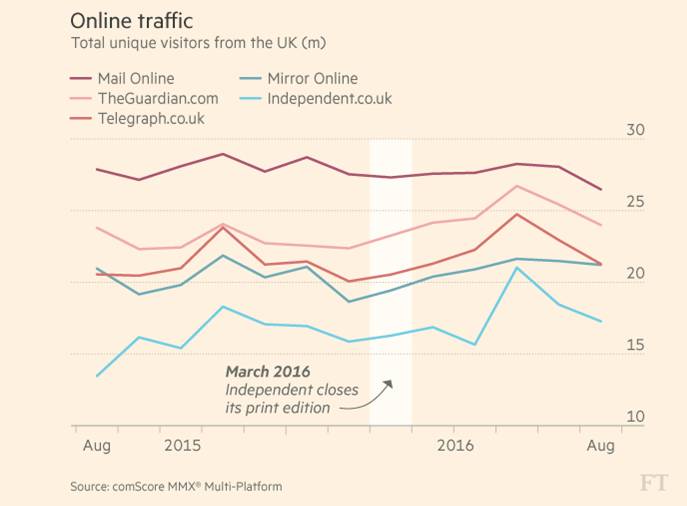 With a younger staff on lower salaries and no printing or distribution costs, the Independent said it now had a sustainable long-term future.
"By going online-only we freed ourselves from the unwieldy infrastructure of print, and allowed ourselves to be far more flexible," said Mr Lebedev. "It is still early days, but the first six months have shown that by being more nimble and digitally focused we can better serve our new, much bigger audience online.
"We are profitable for the first time in 23 years, which brings with it new opportunities."
But it is unclear whether the digital Independent can retain its distinctive voice and reputation in the medium term after a significant churn of its staff.
The paper was founded 30 years ago to take on the partisan British press with an emphasis on neutral political coverage, world-class foreign reporting and a groundbreaking use of pictures.
"For me, the power of the Independent came from the variety of voices, the originality in its design and the iconoclastic feel of the paper," said Simon Kelner, the paper's longest-serving editor. "It is very difficult to replicate that in digital form. And it is even more difficult to do that with a paper like the Independent."
Christian Broughton, the title's current editor, said the Independent continues to practise serious journalism and points to the retention of some of its biggest names such as foreign correspondent Robert Fisk, defence correspondent Kim Sengupta and chief political commentator John Rentoul.
But not all of the staff are convinced. "It may be profitable, but at what cost?" said one Independent journalist who asked not to be named. "It bears no relation to what it used to be."
The Independent is betting that it can develop an online brand capable of taking on other digital publishers such as BuzzFeed and the Huffington Post by maintaining its legacy brand while attracting younger readers with lighter articles, including one recent report about a kitten rescued from a hurricane in Haiti wearing a sock.
Since March, when both daily and Sunday newspapers closed, the business has seen about 110 of the company's 200 editorial staff leave, with 10 journalists hired to take the new digital editorial team up to 100 people.
The logic for the restructuring is clear in the 2015 accounts, which carried a warning from the auditors that there was "significant doubt" over the print business' "ability to continue as a going concern".
Independent Print Ltd, which ran the newspaper, made a pre-tax loss of almost £7m in 2015 and had net liabilities of £69m. Mr Lebedev and his father Alexander loaned the newspaper business £7.8m to keep it afloat.
With print advertising expected to be down by at least 15 per cent in 2016 and circulations continuing to fall despite a bounce since the vote to leave the EU, many other newspapers will wonder if they should also take the plunge into a digital-only future.
But analysts warned that newspapers could lose influence by retreating from print. "While the Independent is still an important force in UK political life, there are consequences to its reduced visibility for consumers," said Douglas McCabe at Enders Analysis.
"Print newspapers may be retreating, but they remain an extraordinarily influential medium for middle-aged and older audiences."