Our campaign has hit a major milestone for vulnerable families, says David Cohen, but the need is greater than ever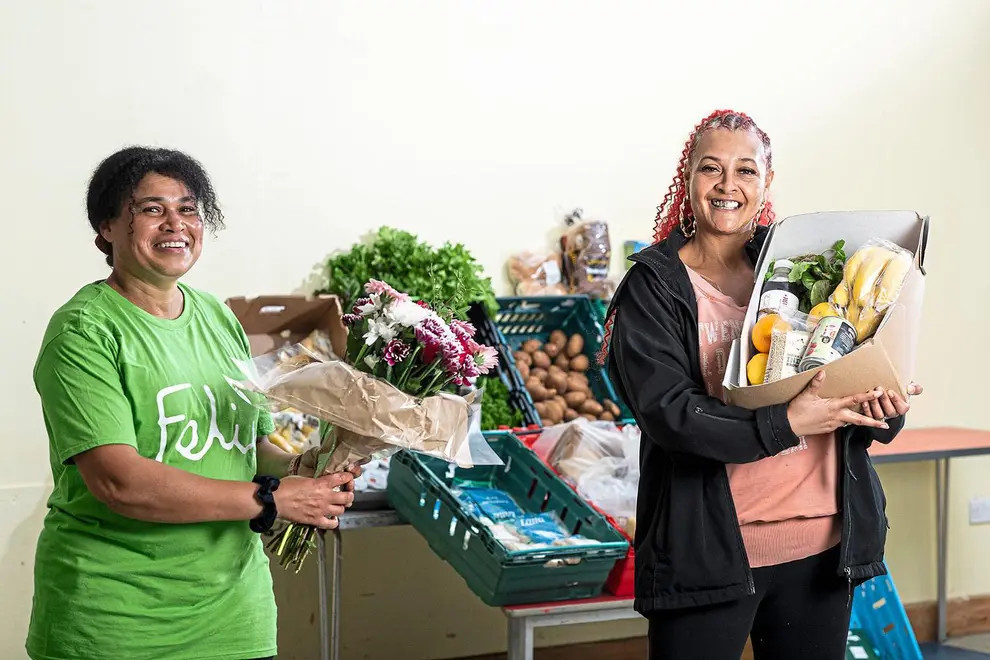 When single mum Simone Waithe arrived to pick up her weekly food parcel, she had no idea that a special occasion was imminent. As the unemployed mother of seven loaded up on artisan bread, fresh fruit and vegetables to get her family through another week, she was presented with a bouquet to herald a unique landmark — the delivery of the 13th million meal supplied by our Food For London Now campaign since the start of lockdown.
This milestone was achieved by our campaign partner, The Felix Project, thanks to the incredible backing of readers and the hard work of Felix's 26 staff and 1,135 volunteers who doubled food deliveries overnight.
It dwarfs the produce supplied by all other major food surplus distribution charities combined. What's more, Felix has waged this battle to ameliorate rising food poverty with barely any financial support from Government and with ministers failing to forge a coherent plan to tackle it.
Evgeny Lebedev, proprietor of the Evening Standard, hailed the benchmark but pointed to the work ahead. "The scale of food poverty is only becoming starker. As we approach Christmas, our target to raise £10 million and open a community kitchen for vulnerable Londoners is ever more essential."
Last week, the Food Foundation reported an explosion in the number of children registering for free school meals in the wake of Covid-19, with 900,000 pupils signing up for the first time this term on top of the 1.4 million who are already claiming.
A spokesman said: "This massive [65 per cent] increase shows the consequences of the Covid crisis. It demonstrates how far reaching its impact has been, with redundancies, loss of income and furlough affecting millions of parents."
Simone is one of 25 similarly struggling parents who pick up food twice a week from Haringey Play, a charity situated in the shadow of the Spurs stadium on the Northumberland Park estate. Thomas Harrigan, who runs the charity, said the numbers who relied on Felix had spiralled threefold to 80 families at the height of lockdown before falling back.
"We had queues down the road and around the corner," he said. "Sadly they are increasing again."
Simone, 43, whose mother worked in the Savoy kitchens and whose father was a bouncer for comedy duo Hale and Pace, said: "We live in overcrowded accommodation with my four daughters sleeping in one bedroom, my son in the other, and me bedding down in the front room. On the days we get food from Felix, the kids bounce in from school and ask: 'Did Felix come today?' They know that when Felix deliver, there will be a feast on the table."
Simone added: "The Felix food gives us half our meals a week and I buy meat, pasta and other bits to supplement. During lockdown, the children were stuck at home and continually eating. Without Felix and Haringey Play, we would struggle to get by. They're a godsend."
Felix estimates that of 13 million meals supplied, 27 per cent has been delivered to the hubs established by local authorities to serve vulnerable groups in response to Covid, 25 per cent to homeless charities, 15 per cent to schools and 33 per cent to the NHS, the shielded and charities helping the elderly, domestic abuse victims and refugees.
For Carrigan, 58, a Glaswegian former bank robber who served time in Belmarsh prison before turning his life around, the food comes as respite for poor families dealing with deprivation.
"We are on a part of the estate known as the front line because of the gang war between the Northumberland Park boys and the Wood Green boys," he said. "We have to contend with drive-by shootings and youngsters getting stabbed and shot — sometimes it feels like the families we help are trapped in the middle of a war zone."