Beyond Black Hawk Down
A lot has changed in Mogadishu, the capital of Somalia, since America's ugly involvement in the 1990s (as captured in the 2001 film Black Hawk Down). Evgeny Lebedev travels to a city fighting for recovery, and sees progress and stagnation battling for primacy. As Prime Minister Abdiweli Mohamed Ali tells him, "Somalis are sick and tired of being sick and tired." There are signs of promise—the city's Bakaara market has replaced bullets and forged passports with local produce, grain, and meat. But with the al Shabaab militia still festering in the south of the country and al-Qaeda maintaining a toehold, control may still be out of the government's reach.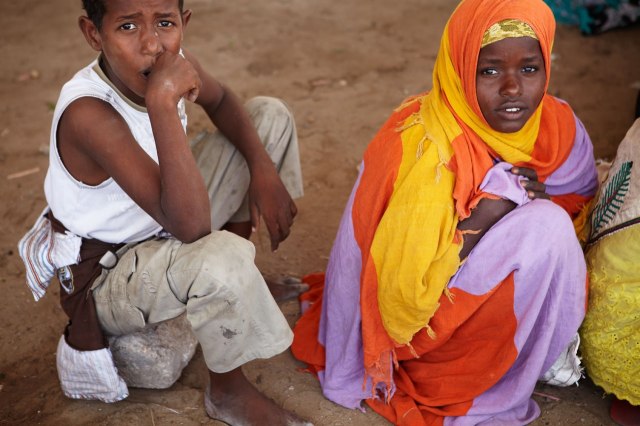 Upon landing at Mogadishu airport, I found it hard to ignore certain omens. The carcass of a crashed cargo plane litters the end of the runway. Visible through the crystal-clear water of the Indian Ocean below is the outline of a sunken trading boat, a memento of the struggle with pirates for control of the surrounding sea.
When I arrived last month, the passenger on my right stared down at the plane wreckage below. He was a Western security contractor, one of those seeking the bumper paydays that come from working in a place many international newspapers describe as "the world's most dangerous city."
"I saw that plane get hit," he told me. "A Somali was standing in a fishing boat with an R.P.G., the boat bobbling up and down. He had only one rocket, and boom—it went straight up and took out an engine. You'd never be able to repeat that if you tried a thousand times.
"The plane fell like a stone, but the crew not only survived—they walked away. They climbed out of the cockpit and started unpacking boxes from the back. Ukrainians, they were. Tough people."
Then he smiled. "It's not like that now," he promised. "The bad times are over for Mogadishu. They're even talking about opening a hotel for the tourists that will soon come back."
The contractor was, perhaps, being optimistic. As I discovered after we landed, transport for Westerners in most parts of Somalia's capital city is still only possible in heavily armored military-personnel carriers manned by soldiers wielding Soviet-made 7.62 PKM machine guns. That's not a good look on a brochure.
I was visiting Mogadishu ahead of the London Conference on Somalia earlier this year, when the big hitters of international diplomacy, among them Hillary Clinton and U.N. Secretary-General Ban Ki-moon, met to try to agree on a way forward for the world's longest-failed state.
That was clearly going to be no small task. For 20 years Somalia has been in the grip of squabbling warlords, pirate culture, tribal extremism, and religious fanatics. Vast swathes of it remain under the control of the fiercely anti-Western Islamist al Shabaab militia, which this year allied with al-Qaeda. Parts of the country, most importantly Puntland and Somaliland, are de facto independent, so weak is the official government's authority over its regions.
But talk ahead of the conference was that the worst is over, that al Shabaab is being defeated, and that—finally—an opportunity has arrived to end the impasse that has prevented a nationwide government from taking hold since President Mohamed Siad Barre's ouster in 1991. I wanted to see for myself if there was any truth to what was being claimed.
What I found is that although Mogadishu is far from becoming a vacation hub—the epicenter of a "Costa del Somalia" of sorts—it is nevertheless no longer the place seared into the public's consciousness by the footage of American servicemen being dragged through its streets in 1993 after a fierce gun battle (re-envisioned in the film Black Hawk Down in 2001).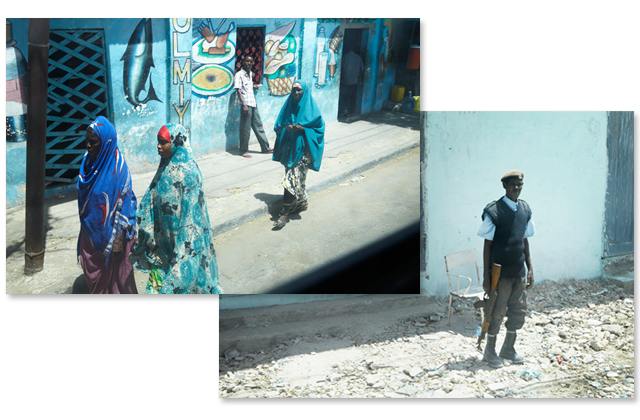 Everywhere you look, there remains evidence of its recent past. There is barely a building not pockmarked by bullet holes; semi-permanent camps fill abandoned spaces with refugees who fled drought-hit regions of the country last summer; the once proud national sports stadium is scarred by jagged holes in its edifice where it was struck by rockets.
But despite this, something akin to normal life is resuming on Mogadishu's streets. Shops have opened. Streetlights been installed. People sit drinking coffee at cafés past nightfall, an hour at which they would have scuttled to the safety of their homes only a few months ago.
Until last summer Bakaara market in the center of the city was the largest illegal arms fair in Africa, a place where traders openly sold everything from Kalashnikovs to 30-mm. anti-aircraft guns. Buyers could pick up not only an arsenal in an afternoon but also a fist-load of forged passports to take home with them.
Now its maze of alleyways is filled with farmers hawking produce from the countryside. Rather than bullets, there is grain and meat for sale, and the sight of women haggling over prices as children cling to their skirts.
The fundamental reason for this transformation is a military one. For the last two years African Union troops have been fighting building by building to push al Shabaab out of Mogadishu.
When they first landed they came under mortar fire, but they advanced up the beach to establish a foothold around the airport nonetheless. Now the 11,400-strong force from Burundi, Djibouti, and Uganda has pushed the front line to a 20-minute drive north of the city, out amid the rolling scrubland of Somalia's interior.
With neither side having any air support, it is a scene of almost World War I simplicity, with the African Union troops manning trenches protected by sandbags and barbed wire as they scan the ground for potential attackers.
"Every night we used to hear shooting and exchanged fire with the enemy forces. At times you were fighting hand to hand," said Lieutenant Colonel Kayanja Muhanga, the commander of the local anti-Shabaab battle group. "Things are better now as we are not fighting in a built-up area but, we are still fighting an enemy that is ready to die, willing to do suicide attacks."
Shortly after he finished speaking, there was the explosion of shells being fired in the neighboring section of the line. "We better go now," I was told.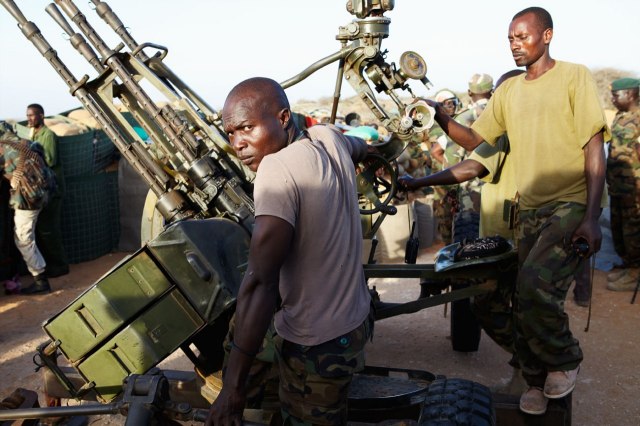 This is the problem Mogadishu still faces, despite the recent advances. Al Shabaab is weakened, a result not only of the African Union mission and an incursion by Kenyan troops into the south of Somalia but also of the loss of popular support it experienced after leaders refused to allow Western aid to reach famine victims. But the group has not disappeared, surviving on its control of key trade ports farther down the coast from Mogadishu. It still has devastating terrorist capability, as demonstrated by a recent bombing of the reopened national theater. It's believed to have thousands of fighters.
At the London Conference more troops were promised to help Lieutenant Colonel Muhanga and his men, and millions of dollars of aid were pledged. Participants set a deadline for the organized dissolution of Somalia's existing but dysfunctional central government—widely considered the most corrupt in the world—and the formation of a new body put in its place.
But when talking privately, U.N. and diplomatic officials freely admit that it could take as long as 20 years for the country to become anything resembling a fully functioning state.
"It takes as long to get out of a situation like this as it does to get into it," one Western official confided to me. "But at present the amount spent by the international community combating al-Qaeda in Somalia each year is the same as is spent combating it in Afghanistan each day. Clearly there has to be a redirection of resources into this country if the problem is not to worsen."
The office of Somali's prime minister, Abdiweli Mohamed Ali, is inside a fortified compound in the heart of the capital. Westerners working as advisers to the African Union troops refer to the area as the city's Green Zone when they are talking informally, as it is reminiscent of the walled-off and heavily protected district in the heart of Baghdad where the Iraqi government was based after the 2003 invasion. But when speaking officially, they never mention that term, calling it merely the governmental district. Even in a place with as bloody a history as Mogadishu, no one wants an association with Iraq.
In his office, wearing a neat suit jacket and a tightly knotted tie, Ali was resolutely upbeat about his country's future. A bookish, bespectacled man with the air of an economics lecturer, Ali was plucked from relative obscurity to lead the administration in 2011. He was hopeful that the renewed international focus on his country meant the cycle of conflict that had defied all previous peace initiatives could now be broken.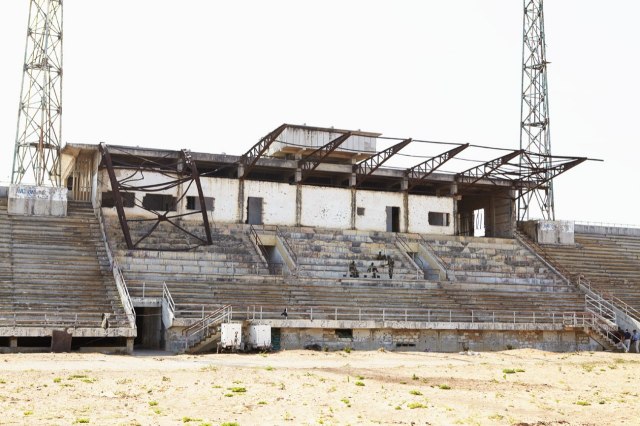 "Somalis are sick and tired of being sick and tired," he explained. "Imagine the child who was five in 1991 when the government collapsed. Today he is 25 and he has not seen any institutions functioning: schools, hospitals, police force, law and order. We have to move on, and this is the chance to do so."
"The Somali problem is not confined to Somalia," he added. "Piracy is not a Somali problem. Maybe some of the pirates off the coast of Somalia are Somali citizens, but 20,000 ships pass through the Somali waters every year. That is affecting global trade. Terrorism is not a Somali problem; it's a global problem. The local problem has to be addressed regionally, and it has to be addressed globally."
"That's why I think the U.K. prime minister has arranged this conference. The world cannot just look away and say, 'This isn't our problem,'" Ali said. "Also it becomes an immigration issue for every Somali, because they're sick and tired of these problems; they just want to leave. That's why they're taking risk on the high seas. Going to Europe or to England."
Even Ali himself doesn't see his future in Somalia. When the existing government's mandate runs out in August, he will be required to leave office. He intends to leave for New York State to resume his university teaching post amid the peace and calm of Buffalo. Academics are "where [his] heart lies," he says.