November 16, 2015 at 15:42
Our Homeless Veterans Appeal shows that journalism can be a force for good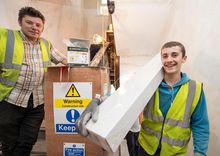 Last Christmas, 'The Independent' and 'Evening Standard' raised £1.3m for ex-servicemen and women
Evgeny Lebedev
In Russia, where I was born, there is unflinching support for the armed forces among the people. It's a kind of unspoken principle of citizenship that you revere those who fight for your country.
Until we started looking into the conditions of homeless veterans, I thought Britain, my adopted home, had the same attitude. There is a quiet patriotism among people of this country, readily seen in the solemnity and grace of those Remembrance Day services we saw just last week.
And yet too many of those who serve Britain's interests overseas come back to a life of destitution and despair. The trauma of war gives way to the basic needs of civilian life, and many struggle with the transition. That is why so many end up in hostels or sleeping on the streets – and why the work of Veterans Aid and ABF The Soldiers' Charity is so vital.
I was thrilled that we were able to raise over £1m for this vital cause, and am hugely grateful to readers of The Independent newspapers and the London Evening Standard, for their generosity in making this happen. I'm also personally grateful to the Mayor of London, Boris Johnson, for the additional £1.7m that we are getting from City Hall for the hostel in east London that we supported through this campaign.
Campaigning is at the heart of quality journalism. Newspapers specialise in telling stories, highlighting injustice, and rallying people behind important causes – putting pressure on those with power to help transform the lives of those who deserve our help. Our Homeless Veterans campaign smashed our own fundraising record. It is a very cheering reminder of journalism as a force for good.
Evgeny Lebedev is the owner of The Independent titles and London Evening Standard