October 22, 2014 at 10:53
Is it 'do svidanya' for Russia and the West? One businessman thinks so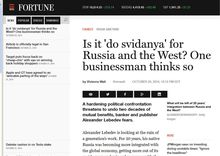 A hardening political confrontation threatens to undo two decades of mutual benefits, banker and publisher Alexander Lebedev fears.
Alexander Lebedev is looking at the ruin of a generation's work. For 20 years, his native Russia was becoming more integrated with the global economy, getting more out of its vast human and mineral resources with the help of western experience, western skills and western money.
Now, he's afraid, that's all going to change. When Fortune visited the 54-year-old spy-turned-banker at his National Reserve Bank in Moscow earlier this month, he said he was deeply worried that the chill between the West and Russia could only get worse, hugely complicating business for him and others and costing untold opportunities for others.
"The atmosphere between politicians has been so spoiled that nothing can change that for a long time, this is what I fear," says Lebedev, who is also the publisher of London's Evening Standard and the U.K. national daily The Independent.
Fretful and angry over the new schism, he believes that the U.S. and Europe, and Russia, have retreated to separate corners, unable to compromise, for fear that they might appear to be selling out their principles. "There's a cultural war between our countries," he says, "with Western politicians with their stereotypes and Russian politicians with their stereotypes."
That was certainly on view this week when, despite plenty of advance preparation, Putin and European leaders made absolutely no headway on achieving peace in Ukraine, although they did cobble together a deal on getting through the winter without a breakdown in Russian gas supplies to Europe.
For him, as for many, the Ukraine disaster has just added a wholly unwelcome extra layer of uncertainty over his diverse businesses. He estimates he has plowed about $127 million over the past decade into hotels in Crimea. When Putin seized the Black Sea peninsula from Ukraine last February and annexed it, Russians loudly applauded the move, but the U.S. and Europe declared it illegal, and sanctioned most investment in Crimea. Most importantly for businesses, visitor numbers from Ukraine and Belarus plummeted, not helped by a ban on flights (international air traffic controllers don't recognize Russia's claim on Crimean airspace).
"It's completely unclear what can and can not be done," Lebedev says. He says his Crimean hotels employ about 1,000 people, about 200 of them Ukrainians. "Doing business in Crimea under sanctions is not legal," he says. "So what am I supposed to do? Close the hotels and fire the staff?"
That, he says, would be drastic for Crimeans themselves. "If business doesn't work there they will lose their jobs and there will be no proper economy."
In Lebedev's view, sanctions have made a weak Russian economy far weaker, not so much directly, as through the dramatic drop in the oil price that has happened, in part due to the economic slowdown caused, ultimately, by the Ukraine crisis.
"Oil prices are affecting the budget in a much bigger way [than sanctions]," he says, "as well as the lack of initiative in the private sector and corruption."
One of the most painful consequences of them is Russia's loss of access to western capital markets. Moscow has made a virtue of necessity by allying the country more closely with China, and a host of trade deals signed this week during a much-trumpeted Chinese trade delegation's visit to Moscow are testimony to the ever-closer links between the two. But Russia's companies–especially oil company OAO Rosneft–have huge foreign debts falling due over the next 18 months, and Lebedev reckons that will test Chinese generosity.
"If somebody thinks we can easily replace the foreign markets we are blocked from with Chinese money, it will not be easy," he says. "Since I'm not a government bureaucrat I can admit that sanctions are not good for the Russian economy."
But it's not without a silver lining either. The other main element of Russia's response to sanctions has been to encourage import substitution. Nowhere is that more the case than in the food sector. For the last 20 years, Russia has found it easier to use money from oil exports to buy food from others. Now the crisis (the Kremlin has banned the import of most food products from the E.U., U.S. and others) has forced it to develop its own domestic resources.
(In the short run, though, all it has done is to boost inflation: fruit and vegetable prices were up 12% on the year in September, according to official figures.)
Import substitution should be good news for Lebedev, who owns about 40,000 hectares (about 99,000 acres) of land, and who last year produced about 110 tons of cereals and 160 tons of potatoes, some of which was sold to Pepsico Inc. to make potato chips in Russia.
"If I was in Germany or France I would get €400 a hectare in subsidies" from the E.U., he says. "Here I get $10 a hectare." That could be about to change, if Putin delivers on his promises to promote Russian agriculture, after decades of neglect.
"The government wants to bring in more subsidies, and invest more money in the private sector," Lebedev says. As always with sanctions, there are plenty of losers — and some unexpected winners too.