September 4, 2014 at 10:49
Letters to the editor: Airport debate is far from over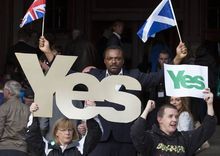 The alliances and codeshares that characterise modern aviation need a single hub airport in a focal city. If Sir Howard Davies chooses Gatwick for expansion, the airlines of the three major alliances would not move there. A bigger Gatwick would therefore only serve to aid the low-cost, point-to-point carriers to expand.
Then there is rail capacity. Gatwick sits on the Brighton main line, which already suffers delays and congestion. It would be impossible to thread an additional railway line through, and there isn't platform space at London Bridge and Victoria to accommodate it.
Heathrow is the true London airport. It could be served by Crossrail and Crossrail 2, a Piccadilly line service every two minutes, the new rail link from Reading and more. Up to five new runways could be built across land reclaimed from reservoirs.
Having wasted taxpayers' money on his estuary airport pet project, the best thing Boris can now do is be silent about Heathrow expansion, or come out fully in support of it. But with his desire not to upset west London Conservative voters to further his political ambitions, he may fall into another trap, and support Gatwick expansion over Heathrow — much as we saw with Putney MP Justine Greening speaking out against a third runway as Transport Secretary, before being moved from the role.
It is far preferable if the political agenda on these matters of national importance is set by impartial people.
Nicholas Hair
Howard Davies's position on airport expansion appears to be in the worst tepid incrementalist traditions of the British Establishment.
That large infrastructure projects are complex and challenging is not disputed, but we are fortunate that people like Davies were ushered out of the room when the US embarked on its Interstate Highways System under President Eisenhower ($425 billion in 2006 dollars) or indeed the Apollo space programme. Ultimately it is an indictment of our government that it enables such biddable individuals as Davies to provide it with cover.
Charles Cassidy
In air traffic control terms it is not safe to increase approach air traffic to Heathrow or Gatwick. Let Manston (now earmarked for housing) or better still for the North, RAE Bedford Airfield take some of the strain or the freight business. Both have large runways, are away from other air traffic and are close to or on mainline train routes.
John Wildey, Iver Heath
Boris: I'm sure you're right that a third runway at Heathrow would be "barbaric" for local residents. It's all the more surprising then, as aspiring MP for Uxbridge, that you appear not to recognise the similar impact on those affected by HS2. The real travesty is the absence of a national transport strategy that maximises integration of rail and aviation.
David Edwards, Little Chalfont, Bucks
Would a Yes vote be final?
The Scottish referendum is surely advisory and of itself would bring no changes. It is hard to imagine Westminster would ignore a substantial Yes victory, but what about a very narrow one?
Leave aside the paradox that Scotland's future might be decided by non-Scots perhaps only temporarily resident in Scotland, while Scots in other parts of the UK have no say; this is a matter of great importance for the whole Union. It is arguable that all MPs must consider whether the break-up of the nation is consistent with their responsibilities to their constituents, and be ready to resist it.
Dugald Barr
As a chess grandmaster who has represented both Scotland and Britain, I feel truly sad about a prospective loss of kinship with fellow Brits. Like many Yes supporters, I am no nationalist — the question is whether an established country is ready for political independence, and the answer is Yes. We never looked back after devolution. Following the necessary adjustment after a Yes vote, we will wonder what all the fuss was about.
Jonathan Rowson
Jihadists must not be appeased
Ed Husain is worried about upsetting British jihadists by taking away their passports since it may justify terrorism within the UK. This is akin to not defending yourself against the school bully beating you up since he may get angry; or to not participating in any resistance in the Second World War since to do so could make things worse.
That cannot be our approach. We are dealing with barbarians who wish to destroy everything decent. This is an existential threat that must be dealt with through the same unwavering determination that possesses Islamic State.
Howard Ricklow, NW3
Re arguments for caution against taking away the passports of radical extremists — I don't see why, when we live in a culture where the authorities waste no time prosecuting the most minor offences, we should be reluctant to do the same to those who really are a threat.
Steve Lustig, NW2
David Cameron has been quick to denounce the murders of James Foley and Steven Sotloff. Yet he was silent about Saudi Arabia's announcement yesterday that it had beheaded four men by sword following their conviction for smuggling hashish pills.
Saudi executions — 45 this year — are usually by this method. What makes one set of beheadings "despicable" and the other apparently unremarkable?
Sasha Simic, N16
Things we can do to fight corruption
I was interested to read Alexander Lebedev's suggestion for a global anti-corruption police. He's right that until we can overcome the challenge posed by fragmented rules and jurisdictions we will always be on bicycles chasing Ferraris.
But we could get on with some measures now. Let's hold senior bankers personally accountable for money laundering by their institutions. And let's make sure the "beneficial" owners of companies are disclosed, wherever they are. This would also mean that the Land Registry would have to disclose the real owners of properties — including those in London bought with corrupt money.
Gavin Hayman, Global Witness