January 13, 2014 at 14:32
Evening Standard in bid to up circulation by 200,000 with 250 new distribution points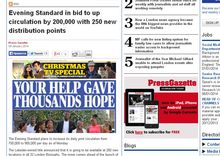 The Evening Standard plans to increase its daily print circulation from 700,000 to 900,000 per day as of Monday.
The Lebedev-owned title announced that it is going to be available at 250 new locations in all 32 London Boroughs. The move comes ahead of the launch of a new TV station broadcast out of the Standard newsroom on Freeview, London Live, which is due to start broadcasting in April.
Here is the press release:
Starting from January 13th the London Evening Standard is to significantly increase its circulation above its current number of 700,000 per day. The increase will see the paper's distribution extended from central city, tube and railway station locations out through to zone 6 and into all 32 London boroughs. The distribution roll-out will build throughout January and be complete in time for the hotly anticipated launch of London's new entertainment channel, London Live.

The distribution increase will see The Evening Standard available at 250 new locations, including major transport interchanges and selected branches of major supermarket retailers, including Tesco, Sainsbury's, Asda, Waitrose and Morrison's. With a recently relaunched digital version of the newspaper on iOS and Android, Londoners will now have even greater access to the Standard's award winning news, features and comment - completely for free.

It also comes ahead of the Spring launch of London Live, the first twenty-four hour entertainment and news channel that will be entirely devoted to the Capital and broadcast on Freeview, Sky and Virgin.

Sarah Sands, Editor of London Evening Standard, said: "The next 12 months are going to be exciting for the London Evening Standard. Through this increased distribution and the launch of our sister TV station, we will be giving even more Londoners access to the very best reporting on this fantastic city."

Andrew Mullins, Managing Director of Evening Standard Limited, said: "In response to recent research carried out amongst readers and non-readers, and in anticipation of launching the London Live TV channel, we have decided it's time to take the Evening Standard offering to the next level. From Monday, the distribution of the Evening Standard will increase significantly, extending to key suburban areas and covering every borough in London. 2014 is a big year for the Standard; with enhancements to editorial content, a powerful multi-platform offering and the launch of our brand new entertainment and news channel London Live, we will now be able to engage with Londoners across the entire Capital, providing a uniquely valuable audience offering for commercial partners."

The London Evening Standard is London's only free quality newspaper, currently reaching over 1.7 million readers each day. From Monday, the number of copies printed will be stepped up from 700,000 towards a target of 900,000 copies, responding to the demands from readers who live or work outside central London to be able to get a copy every night. Award-winning campaigns including The Dispossessed, Get London Reading, a Ladder for London and Escaping the Gangs have broken new ground for newspapers and raised millions of pounds for the capital's most vulnerable people. The London Evening Standard was bought by Evgeny Lebedev in January 2009 and is edited by Sarah Sands.