August 1, 2012 at 11:30
Russia Accuses Activist of Embezzlement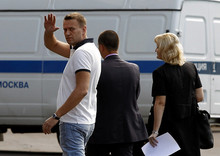 Authorities leveled embezzlement charges against one of the architects of Russia's largest antigovernment demonstrations in decades Tuesday, barring him from leaving the capital and threatening him with 10 years in prison.
Activist Alexei Navalnyi was charged with "embezzlement on a large scale," after a decision a month ago by Russia's top investigator to revive a two-year-old case against Mr. Navalnyi.
The charge comes amid what activists and some foreign governments see as a growing Kremlin crackdown on those who have challenged the government of President Vladimir Putin. The push has included prosecution of demonstrators, raids of opposition figures' homes and tightened laws on public protests, Internet regulation and nongovernmental groups.
On Monday, testimony began in the trial of three women in a punk-music trio who pleaded not guilty to charges of criminal hooliganism for performing an anti-Putin "prayer" in Moscow's biggest cathedral.
"We are on the brink of political repression," said Alexander Lebedev, a wealthy banking and media mogul who supports Mr. Navalnyi. Swedish Foreign Minister Carl Bildt wrote on Twitter that the world "should be concerned with attempts to silence fierce opposition activist Alexei Navalnyi."
Kremlin officials say the criminal cases have no political motivation and defend the legal changes as efforts to modernize the political system.
Mr. Putin told a meeting of youth activists Tuesday that Russia must develop "steadily and calmly." He said he respected many of the protesters who took to the streets of the capital last winter after disputed parliamentary elections. But he defended the government's moves to limit protest, citing the "color" revolutions that brought down regimes in other former Soviet republics in recent years.
Mr. Navalnyi, a 36-year-old lawyer, became one of the most popular leaders of the protests thanks in large part to his campaign to brand the pro-Kremlin United Russia party as the "Party of Crooks and Thieves."
Since Mr. Putin returned for a third presidential term in May, Mr. Navalnyi has sought to keep up pressure on the Kremlin with street protests and Internet allegations of corruption. He also is being probed for his role in leading a May 6 protest that turned violent, but hasn't been charged.
The new charges against him stem from an investigation dating to 2010, when he came to prominence with his Internet investigations of state companies. The case was dropped earlier this year, but ordered reopened in late May by Alexander Bastrykin, the head of Russia's Investigative Committee.
The new charges are dramatically more serious than those considered earlier. Investigators accuse Mr. Navalnyi and two others of "organized theft of property" from a state timber company in the Kirov region, KirovLes, of 16 million rubles ($500,000) for 10,000 cubic meters of lumber in 2009.
The alleged theft occurred when Mr. Navalnyi worked as an adviser to Kirov Gov. Nikita Belykh, a liberal appointed in 2008 by then-Prime Minister Putin to run the economically depressed region.
Investigators didn't explain in detail what kind of evidence they had, but said that once the earlier case was sent to Moscow by regional authorities, they used "financial analysis and investigative materials to confirm Navalnyi's participation in the execution of a crime."
Mr. Belykh said he enlisted Mr. Navalnyi to bring more transparency to the local timber industry. Mr. Belykh wrote on his blog around the time the investigation began in 2010 that his ex-adviser is innocent. He couldn't be reach for comment Tuesday.
Mr. Navalnyi dismissed the charges as "absurd" and drew parallels to the case of oil baron Mikhail Khodorkovsky, who was jailed for economic crimes in a case widely viewed as political. His lawyer filed a challenge to reopening the case but warned that the new, more severe indictment meant Mr. Navalnyi could face a long jail term.
Mr. Navalnyi wasn't taken into custody, but isn't allowed to leave the capital, the Investigative Committee said. The trial is likely to begin this fall. It wasn't clear how the charge could affect Mr. Navalnyi's recent appointment to the board at national airline Aeroflot.