April 25, 2012 at 12:58
Cherish your press freedom Russian newspaper boss tells Leveson Inquiry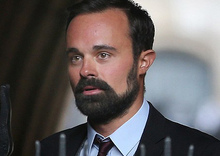 The freedom of the Press to hold the powerful to account should be cherished, the owner of The Independent newspaper said yesterday.
Evgeny Lebedev, whose family owns the London Evening Standard, warned the Leveson Inquiry into Press standards: 'I've seen the other side.'
He said that in his native Russia, corruption went unchecked because editors were constrained by Press barons who were in hock to rich businessmen.
Mr Lebedev said: 'I was born in the Soviet Union, I come from Russia, and I can see the effects of not having a free Press is having on Russia.'
He claimed more than £180billion had been siphoned out of the country by unscrupulous oligarchs, many of whom were now living in London.
'Where is that money going? It may be going to fund terrorism or anywhere else. So that's the effects of not having a free Press,' said Mr Lebedev, whose family purchased the Standard in 2009 and The Independent a year later.
He said: 'I think one of the extraordinary things about this country is a very robust and diverse Press, and I think that has to be protected.'
He added that anyone in the media who had committed crimes should be 'punished according to the law'.
Lord Justice Leveson also heard evidence from the boss of The Daily Telegraph, who revealed that he texts David Cameron suggestions on the economy.
Aidan Barclay, the chairman of the Telegraph Media Group, also once arranged for Mr Cameron to be sent an article about the merits of lower tax for high earners.
In another text, referring to news that Samantha Cameron was pregnant, Mr Barclay wrote: 'David, good to see you, congratulations on the prospect of a new addition to your family. Spoken to TG (Daily Telegraph editor Tony Gallagher) and arranged daily call during campaign as discussed.'
Explaining why he sent the texts, Mr Barclay said: 'I would like to think it's more useful because it goes directly to the recipient rather than getting lost in the system. I was busy sending text messages in the hope they would be useful.'
Mr Barclay said the Telegraph titles had always been conservative papers 'with both a small C and capital C'.
The inquiry will hear from former News International executive chairman James Murdoch today, and his father, Rupert Murdoch, on Wednesday.