January 10, 2012 at 18:03
Lebedev backs i with fresh TV campaign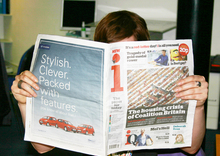 Alexander Lebedev's 20p daily i is to embark on another burst of TV advertising on Monday (9 January), proclaiming it is Britain's fastest-growing quality newspaper.
Repeating the format of a series of ordinary and celebrity readers holding the paper, the new campaign dispenses with Dom Joly and Jemima Khan.
This time comedian Ronni Ancona and i columnist and comedian Mark Steel appear in the line-up.
Rather than setting out i's advantages, the new ad by McCann London changes the approach to show people talking to camera about what they want in a daily newspaper.
In an attempt to reflect the backlash against the News of the World, Steel says he wants a paper "that can be trusted" and Ancona says she wants one she "can be proud to be seen reading".
The ad highlights the 20p cover price, suggesting i is committed to the price point despite continuing moves by other publishers to charge readers more.
It will run throughout January and February across Channel 4, ITV, Five, Sky and ITV2 in weekday breakfast TV, peaktime midweek programming and on Sundays, with media planned and bought by Walker Media.
Andrew Mullins, managing director of Independent Print Ltd, said: "We wanted to continue the momentum we achieved with the i's TV ad campaign in 2011.
"The new campaign now starts to leverage some of the Independent's more renowned and especially relevant attributes of trust and modernity, as well as building on i's unique values of conciseness and value for money. We hope it will continue to grow the number of people buying Independent content in print form."