May 12, 2011 at 13:12
Phone-hacking scandal threatens press freedom, says Lebedev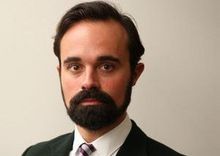 The "dark, murky methods" of some tabloid journalists could result in restrictions on freedom of expression in Britain which would not have been out of place in the totalitarian days of Russia, a publisher warned tonight.
Delivering the inaugural Christ Church Gorbachev Lecture on Press Freedom in Oxford, Evgeny Lebedev, chairman of Independent Print Limited, publisher of The Independent, said society could be damaged by the ongoing phone-hacking scandal at the News of the World Sunday newspaper.
"This theft of information by dark, murky methods is not journalism of which I or my newspapers want any part of," said Mr Lebedev, who is also the publisher of the London Evening Standard. "The journalists involved behaved irresponsibly, rashly and recklessly, forsaking their duty of care. Unfortunately, their dereliction of duty brings all the press into disrepute. It invites a crackdown of enforced draconian laws and threatens our much-valued press freedom. Is it mere coincidence that while the phone-hacking affair has been moving apace, the judges have taken it upon themselves to issue blanket, stifling super-injunctions – protecting celebrities?"
Mr Lebedev said that such all-encompassing gagging orders were a threat to serious investigative journalism. "The danger here is that the rich and powerful – not only actors, pop singers and sports stars – can use this protective legislation to prevent bona fide inquiries into their behaviour and possible misuse of their positions. That is a mistake to be avoided."
He warned that some of the British media had become obsessed with gossip, which undermined the role of journalism in society. "I believe there is too much trivialisation – when what passes as an urgent story is nothing more than tittle-tattle. And when that meaningless trivia is procured via illegal means, we are on a slippery slope as this becomes the accepted standard or norm. We must be wary of abusing our freedom, which could result in losing that very same freedom."
Mr Lebedev, who was speaking at Christ Church College, Oxford, said that unless the British media demonstrated "responsibility" it risked being subjected to the reporting restrictions he had observed in Russia. "If we slip up, the judges and politicians will enforce the restrictions that will not be so different from those in regimes where there are institutional straitjackets, preventing the freedom to report. We cannot allow our hunger for a story about a celebrity to produce a system that would not look out of place in the dark, totalitarian days of my native Russia."
He recalled how, as a teenager, he had seen his father, Alexander, threatened at gunpoint for his role as a media proprietor in Russia. "I was 15 when, for the first time, men with guns came for my father and I can remember him being harassed yet standing firm. He was targeted because of his determination to talk openly, and operate openly, at a time when glasnost and perestroika were newly formed words and not yet the well-worn revolutionary mantras for freedom."
Mr Lebedev was educated in London and recalled schoolboy memories of watching vendors of the Evening Standard. He described how his family's ownership of the paper had improved its fortunes by reducing distribution costs and increasing circulation.
He said he was "so proud" to own The Independent. "It is a byword for doing what it says: being incorruptibly independent, unafraid of difficult truths and being a global barometer of first-class journalism. I intend for that to continue under my stewardship."
He also recalled a meeting with the Prince of Wales, when he was asked: "Have you been interested in football all your life?" Speculating that he had been confused with Roman Abramovich, the Russian owner of Chelsea Football Club, Mr Lebedev said he would have much rather have talked about the role and responsibilities of the press.
"We must uphold them, cherish them, and nurture them. Because if we don't, we threaten press freedom and therefore we damage our society," he said.