February 16, 2011 at 12:31
Tycoon Alexander Lebedev cancels talk in London over fears of forced exile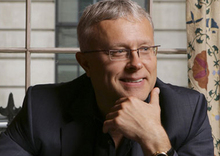 Alexander Lebedev, said that he risked exile by corrupt officials if he left Moscow to attend the Russian Business Week forum at the London School of Economics. The conference was opened by Sergei Lavrov, the Foreign Minister, yesterday.
The owner of the London Evening Standard and The Independent warned that the risks of doing business in Russia were rising, even as the Kremlin sought to woo foreign investors.
Mr Lebedev said that a police raid on his National Reserve Bank (NRB) had been part of a campaign of harassment against his business empire.
"I am extremely sorry for not being able to attend your forum," he wrote to the organisers in a letter posted on his website. He had been due to deliver a lecture today.
"The reason for my absence is the worsening of the business climate in Russia, including the attack by corrupt law enforcement authorities on my business. These events hinder my ability to depart Moscow - there is a possibility that I will not be admitted back." Mr Lebedev, 51, added: "Regards to Mr Lavrov - his is a tough job."
He explained on his blog that he was unable to promote investment in Russia because of the "circus that has been going on around me for four months". He acknowledged that police raids on companies often prompted owners to flee the country, but added: "I am not going to go anywhere."
Mr Lebedev was present when up to 30 masked and armed police burst into the NRB headquarters in Moscow to confiscate documents in November. The bank later complained to prosecutors that the raid had been a show of power designed to stop Mr Lebedev complaining about corruption. He funds the opposition Novaya Gazeta newspaper and is critical of Vladimir Putin, the Russian Prime Minister and a former KGB agent.
Mr Lebedev also spied on Britain as a KGB officer in the 1980s. This has led some activists to regard him as a licensed critic of Mr Putin's regime.
Mr Lavrov was heckled after his speech at the opening of the forum by a protester who demanded the release of Mikhail Khodorkovsky, the oil tycoon.