June 1, 2010 at 12:25
Evgeny Lebedev: a very Russian revolution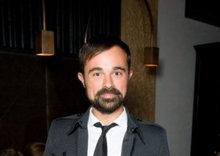 If you think all rich Russian art collectors are in it just for the money and the status, think again. Thirty-year-old Evgeny Lebedev is the chairman of Independent Print Ltd, which owns the London Evening Standard and the Independent newspapers, bought since the beginning of last year by his billionaire father, Alexander Lebedev.
As one of the most eligible bachelors in the UK, he has been dating the actress Joely Richardson, though film and theatre come second to paintings and sculpture, which are his real passion.

But he's not happy with the status quo. He thinks the contemporary art market is overburdened with brand products, that Damien Hirst is a better businessman than an artist, and that it is time for a more individual and spiritual art to emerge.

We meet at Stud House, his rural retreat in Hampton Court Park. On the lawn, workmen are busy erecting a massive tent for a gala fundraising dinner this Saturday for the Raisa Gorbachev Foundation and Marie Curie Cancer Care. The foundation was established by Lebedev and Mikhail Gorbachev to commemorate the life of Mikhail's wife, who died from leukemia in 1999.

We are talking about art because there is going to be an auction at the dinner on Saturday. Along with fun items such as jelly wrestling with the comedian David Walliams and his wife, the actress and model Laura Stone, is 'Hyper Nova', a substantial flower painting by Marc Quinn, valued at £120,000, and prints and photographs by Gavin Turk, David La Chapelle, Douglas Gordon and Jeff Koons. Lebedev, who was brought up looking at art and studied art history on a Christie's Education course, is particularly excited by a lithograph of a triptych by Francis Bacon that was in his studio until he died. Bacon is great artist, he says, because "he had a take on the events of his time, anticipating the horrific effects of war".
He doesn't own a Bacon painting, but you sense he would like to. His fledgling collection includes works by the fantastical Canadian artist Marcel Dzama, the former musician and transvestite DJ Paul Fryer, the American master of staged photography Gregory Crewdson, and Damien Hirst. He was disappointed in Hirst's recent paintings, though, feeling they borrowed too heavily from Bacon.

Inside Stud House, the mood is eclectic. Lebedev hasn't had the builders in yet, and his Hirsts are in Moscow. In the hallway is a stylish portrait of the composer Puccini. A drawing by Antony Gormley is of a huge sculpture of the artist's body which Lebedev owns and has installed in a garden in Italy. 'Lady with Kind Eyes' is a torn junk-shop portrait by an unknown Victorian artist, over which Jake and Dinos Chapman have painted skull-like features in response to the writings of Edgar Allen Poe. "I like the way the Chapmans juxtapose humour and meaning," he says, and Gormley "because of the ideas and beliefs behind his work".
Many of the contemporary artists we talk about are handled by Jay Jopling's White Cube gallery, but he does think it's time that a new wave of artists replaced the YBAs (the Young British Artists of the 1990s, many of whom Jopling still represents). His thesis, essentially, is that artists and their dealers have been seduced by the market to make brand art that sells.

Collectors encourage this by buying the art for investment and social status purposes. Now that times are hard, we have a new government, and high earners will leave the country because of the taxes, both the art and the market will change - for the better. It sounds like a left-wing student's critique of the capitalist system, but none the worse for that..

Lebedev leaves me with a promise. In the stable block of Stud House is space for a private gallery. Along the floor stand a line of paintings of the Stations of the Cross by an unknown old master which are going to furnish a chapel in a castle near Assisi in Umbria. On the end wall is a massive triptych of the Crucifixion (is this an obsession?) by Gaponov and Koteshev, a Russian duo from St Petersburg whose realistic painting contains something of the soul of Russia, says Lebedev.

"No Russian art has made an international impact since the avant-garde of the early 20th century. I want to bring something over here that is both essentially Russian and speaks a universal language; an art which is not derivative of Western art - that will have an impact." And if anyone can generate that impact, Lebedev can.